SDVOSB HAZWOPER Provider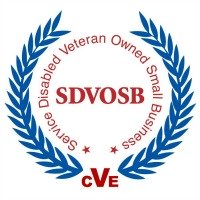 ---
 CVE Service Disabled Veteran Owned Small Business
UNIQUE ENTITY ID NB2RPSSAB614
DUNS 032583797 CAGE 6VW15

---
Your SDVOSB HAZWOPER provider is Training Center Pros, Inc.
If your company is doing business with the US federal government, it may be of benefit to you by letting Training Center Pros, Inc. a VA CVE Service Disabled Veteran Owned Small Business provide your training.
Meeting diversity requirements is a challenge for any contracting officer or diversity manager.
Our clients include USACE, US Navy and others working in the remediation world.
Why TC Pros as Your SDVOSB HAZWOPER Provider?
Benefits of using Training Center Pros, Inc. for your training include:
Monthly Billing - Never Pre-Pay Again!
Customized Web Portal at no cost to you!
HR controls who's taking the class.
Monitor progress of employees.
$39.95 Refreshers!
Huge selection of trainings and CEU's.
Student takes course on any computer!
Certificate available immediately to print as soon as the course is completed.
No contracts or minimums.
We answer the phone if you call us- (877-363-2626).
We're an SDVOSB which help you with federal CO's.
We have a great past performance.
You Have Enough To Worry About
Take the training off your shoulders and let us handle it for you.  There are too many benefits having us do it for you than having to deal with it yourself.  
Remember, monthly billing...you can even pick the date you want the invoice to show up in your inbox.  We will email you an invoice for the employees you signed up the previous month.   We bill by sign ups, not completions.  However, if you have an employee leave during the training, we'll have him/her removed from the roster so you're not charged.
Never pre-pay again!  And the Refresher trainings are only $39.95.
We're SDVOSB.  We don't really use that expecting to get business.  We expect to get business because we care about taking care of our clients.  We know you have a choice in providers and we hope you give us a try.
Click HERE to get started and let us go to work for you!
Not only do we offer the OSHA HAZWOPER Refresher but we also offer the 40 Hour HAZWOPER, 16 Hour, 24 Hour, HAZWOPER Supervisor Initial and Refresher, HAZWOPER Package Deals, Sharps / Blood Borne Pathogens and HAZCOM.
Needing DOT HAZMAT training?  We have that too!
Even if you're needing CEU's with your HAZWOPER, just let us know and we'll add it to your authorized list of courses.
EMS CEU's for EMT's and Paramedics are available as well.
Click HERE to see all of our online course offerings.