Counter IED Training


EOD & Bomb Squads Only


Updated Q3 2018
---
 CVE Service Disabled Veteran Owned Small Business
UNIQUE ENTITY ID NB2RPSSAB614
DUNS 032583797 CAGE 6VW15

---
Counter IED Training for EOD and Bomb Squads Only is available at Training Center Pros or at your location.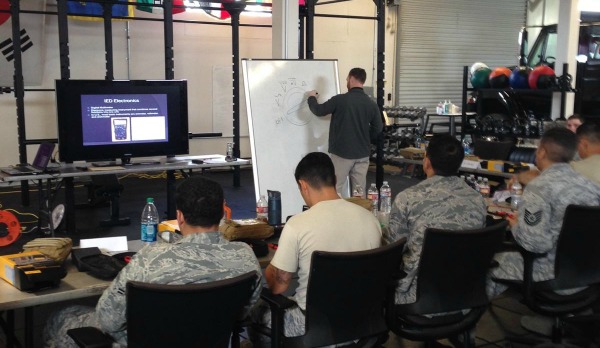 This IED course is updated quarterly to provide training on the most current threats that are occurring in the US and around the Globe.
Ideally created as a 4 day course, this training can be provided in 3 days or as long as 5 days to accommodate the needs of the command in regards to personnel and budget.
Pre-course and post-course tests will be provided to track the progress of the Techs based on years of experience and rank.
Devices built will model the current threat but will be more robust to continue command exercises and training after the course.
Quarterly updates available.
Counter IED Training Mod 1 – Electronics
Voltage, Current, and Resistance
Ohm's Law (with written equations/examples)
Kirchhoff's Voltage theories
SCRs/Relays
LED's
Mod 2 – Advanced Theories
Resistors in Parallel                   
Digital Logic                   
DTMF/Radios                   
RFT-2




Mod 3 – Devices/Current Trends
Series

Parallel

Series/Parallel 

(Pros/Cons)
Mod 4 – Selecting a Target
OPFOR Theory (Target Selection – Who, What, When, Where)                   
Device Selection (How)                   
Component Selection/Circuit Selection                   
Practical/Tabletop Exercise (Plan an attack against known EOD team in AO)
Mod 5 – Avoiding Detection
MOD 6 - Hands On
IED Construction
X-Ray and X-Ray Interpetation
MOD 7 - FTX Practical
EOD Teams are now ready to run as they would operationally from receiving the initial report, responding according to SOP's through forensics and evidence collection.
Classroom divided into four teams of 4-5 personnel  
Two teams will be active EOD teams operating under SOPs; 
Two in-active teams will operate as local CEXC lab/teams.  
Once 9Line is received, EOD team operates as normal; any device/components are brought back to CEXC site.  
CEXC and EOD team exploit device and develop reports based on information seen/found. 
There's no reason to sit through an out-of-date Counter IED Training ever again.  Training Center brings the most current information and takes you through Crawl, Walk, Run quickly.
Training Center provides all consumables and materials needed to create devices.  Devices remain with the command for future training.
EOD Tool Kits may be purchased based on the needs and the budget of the command.
To find out more or schedule a class, please fill out the form below and we'll contact you the same or next business day.